Greetings and Introductions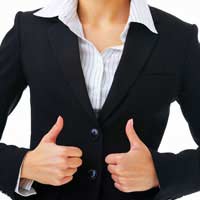 This article covers some of the basic greetings and introductions you can expect to use or see others use when you begin learning sign language. Because there are so many different sign languages this article will concentrate on British sign language. It may be that some of the more generic signs are the same as in other sign languages but just as spoken languages do, sign languages borrow signs from other languages and modify them for themselves.
The basic greetings and introductions will, most likely, be the first thing you are taught in class. This is in common with most spoken languages, at least making it possible for you to pass the time of day with a sign language user.
Saying Hello and Goodbye
Most people use these signs even if they don't know any sign language – without even realising it. That is because the signs for hello and goodbye are waves. Hello is a wave from right to left while goodbye is a wave with the hand folding up and down. And of course, these signs are recognised by people who do not know sign language as well, making the very basic introductions between people everywhere very simple – regardless of their language abilities.
More Detailed Greetings
So, you will want to move on immediately to more detailed greetings, perhaps something that will allow you to find out how the other person is. These too are kept fairly simple, again, making these words the ideal way for beginners to start. To say 'how are you', you simply touch your chest with open hands and then move your hands away from you and bring your fingers in – a simple and quick sign. To respond, you could say 'fed up' which is the top of your hand touching your chin, or 'good' which is very self-explanatory, as it is a thumbs up sign. Other simple words which you may need to learn are yes and no, which, much like the waves, are commonly used anyway – a nod for yes and a head shake for no, with extra emphasis for effect as desired.
Names
Most names will have to be finger spelt as there are not individual signs for most names. But you will still need to be able to ask someone their name, and understand when they are asking you. The word 'name' is the first and second fingers held near the top of the head and then moved away in an arc. Then the response can be the spelling out of your name.
These basic steps will allow you to make at least the most rudimentary introductions when you meet someone who uses sign language. You will not be able to go much further but at least it is a start. It will enable you to check the other person is ok and find out their name. And much else can be conveyed through expression and simple gestures if you get stuck. And once these basics are mastered you will feel confident enough to try and learn more complex signs and the structure of the language.
You might also like...
I am planning to begin a Makaton Class at the Day Centre for Adults with learning disabilities. Beginning with Hello, Good Bye, Animals, Colours, Drinks ect. I hope you can send me something that I can just print off. I am unable to purchase any thing. I hope you can help me. Thank You
Sharon
- 10-Jun-15 @ 3:39 PM