Augmentation and Alternative Communication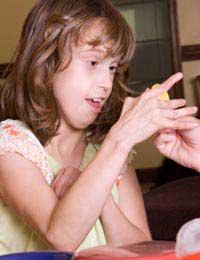 Augmentation and alternative communication refers to any form of communication in which the more traditional communication forms of speech and writing are replaced by something else. This is usually due to the fact that the speaker has some sort of disability which prevents them from using these traditional forms. Of course, AAC, as it is more commonly known, includes probably its most famous form, sign language. But there are many other types of AAC, either aided or unaided - that is to say, those which require extra equipment and information, and those which do not.
Through the Ages
There have always been plenty of ways for people with communication difficulties to get their message across to others without speech or writing, so, in this way, it could be said that AAC has a very long history. However, it is really only in the last 50 years that systems have been put into place to formalise the procedure for recognising when an individual may need help with communication and work with them to identify the most appropriate form of AAC. Indeed, it was only in the mid-eighties that people started to have serious conversations about the need for AAC for people who had mental illnesses - prior to this it was just not recognised that they may have difficulty in communicating with others and that something else was needed. Nowadays, there is a distinct AAC process for anyone who is struggling to communicate traditionally, be it through autism, deafness, blindness or a more degenerative condition, such as Parkinson's or MS.
Pros and Cons
The very evident pro to AAC, which no-one can deny, is that the many and varied forms allow people who may not otherwise have a voice to be able to communicate and participate in conversations in some way. There are some negatives, but on the whole, these are outweighed by this very important fact. The main drawback to AAC is that it leads to slower development in other areas, as even the best forms of AAC cannot be compared to speech. In some cases, it may be that people who have been given the means to communicate by AAC may be reluctant to develop their speech, hindering them in terms of learning and other developmental features. Also, most AAC methods do need the user to be able to communicate with someone who is familiar with that form, and therefore just having the means to communicate does not necessarily mean they will be able to do so with ease.
Although the sphere of AAC is massive and debates will continue to rage on which forms suit which people and why, it cannot be denied that AAC plays a vital role in the world. Thanks to a joined up approach to social and health needs, most people will be identified early on when they need to find an alternative method of communication - and even if they can initially only share that with one other person, it is certainly better than having no voice at all.
You might also like...