Using the Internet to Learn Sign Language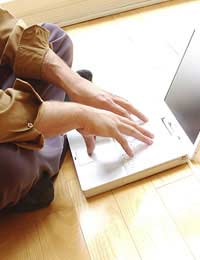 Foreign languages have always been able to be learnt by using tapes and other audio equipment. This relatively low tech equipment meant that those who were unable to attend regular classes or perhaps even afford them still had an option for learning a language. It was also convenient, with tapes able to be listened to on the go – in the car or a personal cassette player. But due to its visual nature, sign language has not been able to benefit from such things historically; meaning people who wanted to learn had to take classes if they wanted to learn. But the internet has changed all of that.
Moving Graphics
Even in the early days of the internet, the fact it could be accessed from anywhere with a connection meant it could start to be used for learning sign language. The fact that learners could see graphical representations made it an achievable mission to actually follow what someone was saying in terms of how to make signs. As the internet evolved, so it became possible to use moving graphics, which showed exactly how a word or phrase was signed.
Videos
High quality videos embedded into web pages are still relatively recent – but they are making a huge difference to the way people use the web. One only has to look at how many articles on news sites now have video with them. This makes learning sign language on the internet not only easy, but, for many, preferable. Of course, there will always be advantages to having a teacher present, but if you are a busy person or, for any reason, cannot commit to attending actual lessons, then watching video clips of real people, explaining how to do each sign, with sound, is no mean substitute.
Video Conferencing
Now, not having a teacher physically present is even less of a barrier to learning sign language than it has been before. Just as conference calls changed the way people meet, video conferencing has made a difference to the way people physically interact. Of course, there are more costs associated with this than simply logging onto a website, as webcams and other equipment would be needed. But for someone who was serious about learning sign language but really unable to get to a class, there are worse ways of studying. At least with video conferencing, the teacher can give you tips on where you are going wrong.
Like most things on the web, the differences between suppliers can be huge. And, as with many things, you do tend to get what you pay for. There may be some decent free sites which gives pictures of how to make different signs but for a more tailored approach, with video, it is likely you will have to subscribe. Some courses may operate like those old language tapes and send CDs to play on your computer in return for a fee. Video conferencing, of course, will cost even more, as there is a staff cost to it. And while nothing can ever replace human contact and a teacher right in front of you to show you any mistakes or a better way of doing something, the internet has, indeed, changed the way we can learn.
You might also like...