John Smith: UK's Only Deaf Comedian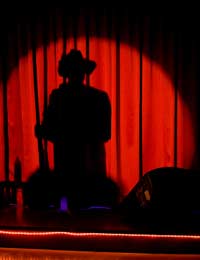 It can be hard for people unfamiliar with sign language to understand how there could be a distinct type of comedy which utilises the language. But there is, and it is practised by John Smith, who is billed as Britain's only British Sign Language comedian. John is profoundly deaf himself and because he uses sign language as his medium of choice, he does, naturally, see a lot of deaf people at his shows. But people who are not deaf can also find a lot of humour in John's comedy – as long as they understand sign language. For this is key, John's humour is not a farcical, slapstick kind of humour. Rather, it plays of the subtle nuances of the language he uses – just as much of the most intelligent comedy in the English language as well.
John's Path to the Top
Like many of today's most popular comedians, much of Nottingham-born John's act is based upon observations of every day life. However, his act is different in that a lot of the time, his observations are exactly that – the observations of someone looking into a world, in this case, the hearing world. But John took these observations and crafted an act around them, delivering his very first stand up appearance in 2005. It was a roaring success and from then on, John knew he wanted to have a chance at becoming a full-time comic. Since then, he has played bigger and bigger venues, entertaining bigger and bigger audiences. As well as his observations on everyday life, John also tackles current issues affecting the deaf community – issues which those on the outside may not even realise exist.
Why John is Funny
At its heart, John's comedy is funny for the same reason that many other comedians are funny – that he has a knack of spotting truths which are universal to all but have a certain peculiarity to them as well. For deaf people, much of the comedy carries an amount of irony with it, because the observations about how deaf people are often excluded from society are unerringly true. And for sign language users, it can be funny because of the ways words are made with the hands – think of it as a type of visual pun. For there is word play in John's act, just as you would expect to find word play in any comedian's act.
Non-deaf people do go to John's shows, but if they do not understand sign language, they will need an interpreter – who can often be the butt of sign language jokes themselves. For sign language is a whole system of language in its own right and the jokes will mean nothing to someone who does not understand the language. Yes, John uses plenty of facial expressions and movement to convey emotion or to emphasise points, but, at its heart, this is sign language comedy, and therefore, the sign language jokes take overwhelming precedence in the show – both those which can be explained to a non-speaker, and those which are harder to grasp in spoken language.
You might also like...
Am deaf and dumb of south west africa nigeria,deaf-uk original post in this 2006 bill 2018.thanh you
john smith
- 3-Dec-18 @ 10:40 AM
Am deaf and dumb in south west africa nigeria,deaf-uk 2006 bill 2018.thanh you
john smith
- 3-Dec-18 @ 10:34 AM
Thank you your message me to addition deaf people uk
john smith
- 7-Aug-18 @ 5:40 PM