Signing Using Telecommunications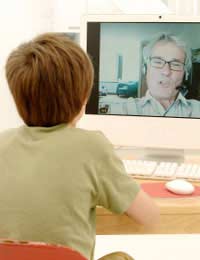 With the advent of ever-increasingly complicated technology, the ways in which deaf people can communicate have multiplied. However, sign language still remains at the heart of the best sorts of communications for deaf people as it is a universal language and one for which there is no need for any expensive or complex equipment, Having said this, it would be wrong to think that telecommunications has not made an impact on sign language – it has. The very fact you are reading this on the internet is testament to the fact people can find out about, learn and research sign language in a multitude of ways which were not available 25 years or so ago.
Early Sign Language Telecommunications
The first ways in which telecommunications really affected the way in which people used sign language was the advent of videophones – as far back as the 1960s, although their use was obviously then restricted to a specialist audience. But the first videophone, named a picturephone, captured the public's imagination when shown to them for the first time as it was clear that two deaf people in far away places were able to have a conversation using sign language. The stage was then set for ever-more complicated telecommunications methods to aid and assist sign language users.
Video Relay
The introduction of services such as Skype in very recent times now means that deaf people with a computer and an internet connection anywhere in the world can communicate with each other. But this is, relatively speaking, a very recent invention. Until now, the most common way that the early idea of the videophone has made a difference to sign language users is through video relay. The video relay service works much along the lines of having a translator with a videophone on hand to be able to translate your signs to the person you are talking to. The translator can watch the signs the sign language user makes and speak them to the other person, wherever they may be.
There is also a service known as video remote interpreting where the people having the conversation are in the same place. The interpreter is in a third place and the signs are relayed to the interpreter remotely. The interpreter then tells the other person what is being said and then translates their response into sign language as well.
Of course, all of this technology is well and good, but it does cost money to install all of the equipment. Some people may feel it is worthwhile and decide to invest – but as stated above, Skype is making much of the old technology obsolete. In fact, the internet has revolutionised much of the way people communicate full stop – not just deaf people. The one thing it has not yet managed to do is render interpreters useless. There may be ways of translating the written word on a computer, but as yet, no one has come up with an entirely foolproof way of translating signs to spoken and back again with no human help.
Signed Language is sponsored by Purely Energy, who have funded a lot of our content. If you are looking for a low cost business energy supplier, take a look at their website.
SIGNED LANGUAGE IS FOR SALE.
This website is for sale [more info].
You might also like...