Using Sign Language in Schools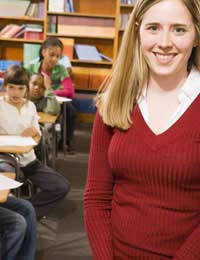 Many deaf children go to mainstream schools – after all, the vast majority of deaf children are bright, lively and able bodied children and so do not need much in the way of adaptation. But this does mean that teachers have to find ways of communicating with these youngsters, which, in many cases, can involve sign language.
Learning Support Assistants
These days, many schools use learning support assistants in schools which can be a great way of making sure that a child who uses sign language gets the support they need, without the teacher being pulled away from the other children in their class. Learning support assistants can be a really useful tool as they can make sure that the child who uses sign language understands what is being said in class, and hopefully keep up with other children in the class.
Sign Language as a Class Exercise
But one of the best ways of using sign language in schools, especially in primary schools, is to turn it into a fun class exercise. The benefits are numerous and manifold. If children learn sign language at an early age, it is a skill which will stay with them forever, and help them in later life. Learning sign language also helps children's basic communication skills. Although it is not a language which children learn by speaking, it still helps them in later life when they start to learn foreign languages. The basics of language skills are the same for any language and an openness to these skills from a young age will ensure that children have the basics in place to become fluent in foreign languages when the chance to learn them presents itself.
But as well as communication skills, getting children to learn sign language in order to communicate with a classmate will give them something far greater in terms of social skills – empathy. If they see chatting to their friend in sign language as just as normal a thing as chatting to them in English, then they may well not even think about the fact that their friend is different in some way. This in turn leads to greater tolerance of all people's differences and may well lead to lower levels of any form of prejudice within the school – a huge benefit for a small investment in terms of allowing children to learn sign language.
Sign Language for Sign Language's Sake
And teachers may want to think about the idea of getting their youngsters to learn sign language anyway, even if there is not a classmate who uses it. All of the above things still apply, even if they are communicating with their non-deaf friends. Sign language will make for well-rounded young people who know how to communicate with others on a mature and sensible level.
It can be a difficult thing to teach, especially to a classful of seven-year-olds, but one thing which sign language always is fun. The children will love the chance to communicate with each other in a different way and will see it as an opportunity to show off. They will probably relish the chance to compete with each other to see who can say the most words first. If you are a teacher why not give it a go – the children may well surprise you.
You might also like...