Mobile Phones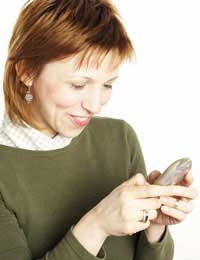 Mobile phones for deaf people may initially sound like a bit of a non-starter. But when you actually think a little harder you soon realise that for many – especially older people who may not be able to get out and about mobile phones are revolutionising lives. There are many reasons why a mobile phone is a good and useful purchase for someone who is hard of hearing. Of course, there are disadvantages as well, but many of these can be far outweighed by the advantages and benefits a mobile phone can bring to someone's life.
Texting
Texting, or SMS (short messaging service) to give it its full name is now ubiquitous in the UK. But just a few short years ago we were all astonished by the fact we could send these short messages to each other's mobile phones. The deaf community welcomed texting with open arms as it allowed them to use mobile phones and be as portable as other people, and make plans while on the go. Although this is clearly a good development – and the fact that pretty much everyone now has a phone and can text – there are some negatives, or at least drawbacks to this. Firstly, the cost. Even hearing people who prefer to communicate by text see the bills mount up – imagine if texting was your only option. Thankfully, some companies have now cottoned onto this and offer special packages for heard of hearing people. Secondly is the fact that if a person is fluent in sign language there English may not be too good. But working with friends they can always develop their own code.
Vibrate
Mobile phones usually have a vibrate setting which allows users to feel that they are ringing rather than hear them. Originally developed for people who wanted to be discreet about their phone, vibrate is perhaps most useful for deaf people. They do not have to have their phone in their line of sight all of the time to see they have had a text message but can set it to vibrate and feel it.
Text Phone
Just like landlines, mobile phones can have special software installed on them to allow them to become text phones. Using this or the RNID's typetalk service, deaf people can have whole conversations in text, as hearing people would in speech. This is more time consuming than short texts but gives a fuller and more complete conversation.
Mobile phones have come on leaps and bounds in recent years and most of the changes benefit everyone. One drawback for deaf people is that the signal can sometimes interfere with equipment they have, especially if they are hard of hearing and wear a hearing aid. An induction loop should clear up any feedback though and technology is improving all the time. It will surely soon be at the point where it does not interfere. So, do not dismiss mobile phones as a silly idea for deaf people as they are just the opposite and when used properly are actually a very good idea indeed. Technology, if used correctly, really can be a marvellous thing.
You might also like...