Signing About the Weather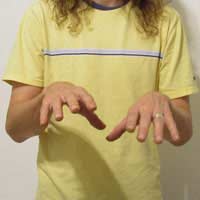 It is a time honoured British tradition to talk about the weather - and this will apply whatever language you are speaking. So it follows that anyone learning to speak British Sign Language will want to be able to use at least general terms for weather whether for passing the time of day with an acquaintance or genuinely bemoaning or celebrating whatever weather may be happening at the time you are speaking. You may even want to wish for nice weather for plans you are making with your friend. Whatever reason, here are descriptions of some of the main signs you will need to talk about the weather. All of the signs below are in British Sign Language.
General Weather Terms
The word for weather itself is made by holding the hands with fingers outstretched, palms facing towards you and then fanning your face, as you may even be able to guess. The word for hot is made by holding an index finger to your forehead and wiping it across - as if wiping off sweat. The word for cold is made by bringing your forearms up to your chest and shaking - as if to represent shivering. The word for sun mirrors the sun's rays by the hand being held above your head with fingers together pointing down before spining open. Rain is represented by bringing both hands down from one side of your head diagonally to the opposite side of your torso and wind is the same word as for weather.
More Advanced Weather Terms
Rain, sun, hot and cold conditions happen fairly regularly. But you may want to learn words for rarer weather events so that you can speak about all eventualities when speaking about the weather. The word for snow is made by holding the hands above the head and bringing them down, wiggling the fingers. Fog is represented by holding both hands, palm outwards in front of your face and moving them down. Thunder is represented by holding hands out in front of you, palms downwards, moving them slightly from side to side. To say windy, you bring your outstretched hands towards you and move them back and do it again - simulating the wind effect.
By now you should have enough words to describe several different weather situations. If all else fails, hot and cold are always good words to remember as they can be applied to a lot of weather conditions. But with the weather being such a British obsession and pastime it will pay to put in the effort to learn the signs for other weather conditions as well. Within a short amount of time, you will be able to have a conversation a about weather in sign language - whether it is with your hairdresser to pass the time or with your best friend as you debate the merits of a picnic. Then you can move on to talking about what you intend to do with your day, depending on the weather. These words will all be explained in a later article.
You might also like...