Personal Information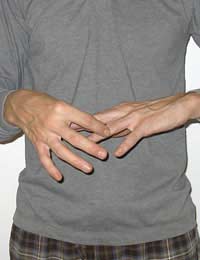 So you have introduced yourself to your new acquaintance, spoken about how you are, maybe even made plans to meet up again, but at this point you will probably want to be able to share personal information. Obviously this will vary for all people, as to the level and amount of personal information they want to share but having the words and vocabulary to be able to do this means you can soon get to know a little more about your new friend and what they like and dislike. For the purposes of this article all of the phrases and words described below are in British Sign Language and they will, obviously, vary in different sign languages just as words do.
Family
You may wish to find out if the person to whom you are talking has any family. Just as children in school learning French are encouraged to ask their friends if they have brothers and sisters, you may want to find out if the person you are chatting with is married or has children. The word husband is represented by miming putting a ring on the ring finger. Wife is exactly the same and they will only be differentiated between depending on whom you are talking to. To say children, you must mime patting children on their head, starting in front of you and moving out and downwards. Daughter is holding the index finger of the second hand and putting a C shape with the primary hand against it. Son is represented by holding the index finger of the primary hand under the chin and then moving along. Mother is easy – the sign for M made twice. Father is the tapping of the first two fingers from the primary hand on the first two fingers of the secondary hand. Brother is hands making fists and rubbing against each other while sister is tapping the nose with a slightly bent index finger.
Occupation
Next, you may wish to find out what the person you are talking to does for a living. Clearly it is beyond the remit of this article to name every job, but here follow some common jobs and words for talking about jobs. To say unemployed you hold the secondary hand open with the thumb pointing upwards and brush the first hand along it. The word for work is both hands being held open and the primary hand chopping down on the secondary one. To say that you are the boss, hold the index fingers of both hands aloft and then move them upwards twice, quickly. To say you are a manager, you do the same. A student would say student by holding the index finger and thumb outward with the tips apart and then moving them downwards.
Emotions
If you feel you are getting to know someone well, you may want to move on to talk about how you are feeling. Conveying emotion is the title of another article but you will still need some basic words for emotions and how to say how you feel. To say tired, you hold your hands at 90 degrees to your chest and then let them fall flat against your chest. Happy is said by tapping the palm of the first hand against that of the second – a bit like clapping. Sad is represented by holding the first hand straight at a 90 degree angle to the face and then moving it downwards. To say nervous you tap the heart with the index finger of the first hand and to say worried you move the first hand in a claw like way in a circle near the face.
These are just some very simple words to get you started on the road to learning more about the people to whom you speak in sign language. The list could never be exhaustive but it may give you some ideas for what you want to talk about and for words you can look up or ask your teacher to show you. At any rate it should allow you to respond if asked questions about your own personal information and to take an interest in that of your new friends.
You might also like...