Sign Language Vs Pidgin - Which is Most Complex?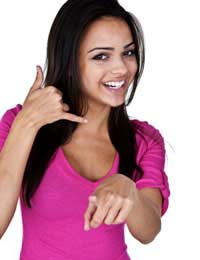 Although sign language can essentially be a method of allowing deaf people to communicate with each other, it will also often be used as a way of allowing deaf people and non deaf people to communicate. This means that it is a way for people who do not have a language in common to communicate. This obviously becomes a simplified version of sign language rather than the more complex self contained one which is used by people who speak it as their primary form of communication. In this way, it is very like pidgin – a language which develops out of two languages between people who do not share either of them, and in time grows up to be its own distinctive system.
Pidgin Sign Language
So, in certain cases, pidgin sign language can evolve into a language of its own. Quite often, deaf people will teach non deaf people some signs and some sentence structures and then use these to communicate with each other. If this is used for long enough, then new signs will develop and it will become a pidgin language – using sign language vocabulary but spoke language structures. This is considerably less complex than proper sign language but serves its purpose well.
Pidgin sign language can be used in situations where deaf people have to communicate with a lot of people who do not use sign language. This might involve a lot of technical language which all parties need to understand clearly and therefore, is a type of microcosm of a language. But at this stage, it is not a sign language and neither is it as developed as a full pidgin.
Pidgin
Pidgin languages are used all over the world where groups of two language speakers have interacted and grown together. Therefore, they have developed into complex systems of their own with their own rules and exceptions. But of course, they are also less complex than a full language as they have essentially merged two other languages so that people can understand each other.
Sigh language is certainly more complex in its purest form than a pidgin language. But when it comes to a pidgin sign language, as it is typically used only between a small group of people, it is a less complex system than a fully-fledged pidgin language. In fact, some pidgin languages such as Creole have become a recognised language rather than just a way of getting by. Having said that, true sign language is every bit as complicated as any spoken language in terms of its grammar and syntax, and to suggest otherwise would be to demean it. The one mistake that students of the language should never make is thinking that because they know some signs, they know sign language. Until a person has mastered the grammar and make up of the language, they are simply using a pidgin sign language and are not using the true depth and colour of sign language – be it Britain, American or any other type.
You might also like...