Holidays With a Difference: Signed Cruises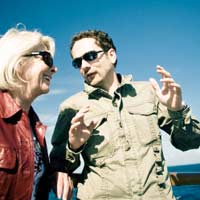 Although some people who are deaf, hard of hearing, or reliant on sign language, will never consider taking any other holiday than the one that their non-deaf friend takes, there are some people who would rather prefer to be surrounded by people who speak the same language as them and go somewhere where they can communicate with everyone they come into contact with.
Bearing in mind that a person who is reliant on sign language may well have set themselves up in a community where there are plenty of other people with whom they can converse, then why should they go on holiday and struggle to find people who they can talk to, making a relaxing experience into a potentially stressful one. This is where some inventive holiday companies have cropped up to offer holidays with a difference; all the activities are signed. Naturally, cruises work best in this form because the traveller can move around and see different things, safe in the knowledge that they can take a tour or join in an activity which will definitely be signed.
Many of the cruise companies which offer signed cruises are not exclusively for deaf people. This means that couples and groups are all welcome, regardless of how many people are dependent on sign language for their communication needs.
Experienced Guides
The key thing to remember about signed cruises is that the guides and the people who run the activities are not sign language speakers who just happen to be thrown into the cruise industry. Rather, they are specialists in their area, like any tour guide, but ones with the added knowledge of being able to speak sign language and interpret it for those who may need it translated. This means that anyone who goes on a signed cruise will not have to worry about missing out because of guides who do not know their stuff – instead, they will experience all of the benefits of a fully qualified and experienced guide without having to struggle to lipread or buying a guidebook just to know what they are seeing.
Tailor-Made
Many cruise companies which offer signed cruises will do their very best to ensure that the cruise and holiday is as tailor-made for each individual's requirements as possible. And, in this age of booking by internet but querying by phone, this will also mean having the video or text phone facilities available so that deaf people can call and speak to someone to make sure that their holiday of a lifetime is as perfect as possible.
While in your home town, or even visiting another town in your country, you can, as a sign language user, time your visit to the theatre or museum to coincide with a signed performance or tour, things are not always so easy when on holiday in a foreign country. But by going on a signed cruise, sign language users can remain confident that they will see some of the world's most amazing sights rather than being stuck in one uninspiring hotel, but also manage to fit in those holiday activities which are not always easy to find when spending a week or two in a foreign place.
You might also like...