Home Signs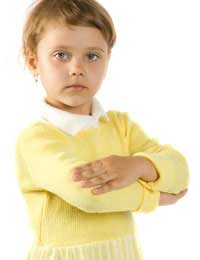 Home signs are basically a system of signs which are invented and created by a deaf person usually a child, within their own family. This is not an uncommon occurrence if the deaf child is being brought up in a home where everyone else is non-deaf. This is because the parents will not know how to sign and will not be able to pass their knowledge of the language onto their child. In families where the parents are deaf, or at least know sign language, then the child can pick up sign language in much the same way as a hearing child picks up a spoken language. This is why it is always advantageous for parents of a deaf child to learn sign language – to avoid and eliminate the need for home signs. Having said that home signs, which are also known as kitchen signs, are important and do have a role to play.
Structure
Home signs do not acquire the same sophisticated structure which full sign languages do, largely because they grow up organically as a kind of pidgin language. However, what does happen is that the users of home signs and home sign systems do develop some kind of language system for phrases and sentences. The home signs are certainly more complex than mere gestures and because they are in use constantly, they are added to and grown every single day. In fact, such is the power of home signing that users of different home sign systems may be able to understand each other from the way they have formed their sentences and phrases.
Relationship to Full Languages
Although home signs are far apart from most proper sign languages, it has been noted that they are the starting point for the way most sign languages grow up. When as group of deaf people come together for the first time, if they do not have a common sign language then they have to start with a home sign system. Over time and generations this may establish itself as a fully fledged sign language. This is in fact the way the first known sign languages came about. The reason that home signs do not do this is because they are rarely passed on to more than one generation. If the parents of a child are not deaf then the deafness is not hereditary and the deaf child may not have deaf children. Therefore, when that deaf person has finished with the home signs they used to communicate, it will not be carried on and will fade and become obsolete.
Without the ability to come up with a home sign system a lot of deaf children would be left without any way to communicate. This is why, wherever possible, it is important that parents learn sign language so they can teach their youngsters. But home signs will not be picked up from parents – in fact, a study by Susan Goldin-Meadow (2003, The Resilience of Language: What Gesture Creation in Deaf Children Can Tell Us About How All Children Learn Language, Psychology Press, a subsidiary of Taylor & Francis, New York, 2003) proved that the home signs used by children in the USA are not related to their parents' gestures at all – but more closely linked to those of Chinese deaf children on the other side of the world. So, whatever obstacles are placed in the way, children have a way of finding common ground and having an ability to communicate.
You might also like...