How Sign Language Choirs Work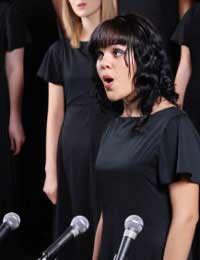 If one stops to think about all of the ways people communicate using spoken language and all of the ways in which language is used to celebrate, praise and have fun, and then considers sign language, it is clear that there are many ways in which sign language can be used. Singing is a particular skill using language and the tune of one's voice and it might be difficult to think of how this particular trait could translate into sign language. However, sign language choirs do exist and they enjoy a good degree of success. They give people who use sign language the chance to use this skill to bring pleasure to themselves and to others.
Singing or Signing?
Choirs which use sign language usually do not sign in the conventional way at all. The way in which they normally perform is to sign the words to the songs, accompanied by music rather than singing them. This does not mean, however, that the signing cannot work in the same way as singing does in a traditional choir. Sign language choirs often use soloists, and have particularly talented signers who take on this role, just as a talented singer would do so in a traditional choir. As one can imagine, whether a soloist is taking the lead, or when the whole choir is signing together, the visual spectacle is very impressive and beautiful to look at.
Costumes and Acting
Sign language choirs tend to make their performances more theatrical than traditional choirs do. They take aspects of the song and dress them up by acting and even the use of costumes, and make the impact of the song even greater. By using costumes to denote soloists and those who are signing the same part of the sing, the impact of the signing becomes even greater to the onlooker.
Michael Jackson
It has been well-documented about how Michael Jackson was an advocate for sign language. Love him or hate him, it is not difficult to see how some of his aspirations were grand but rooted in practicality. He believed sign language was a very useful skills to have, and for his concerts at London's O2 Arena which were due to take place in the summer of the year in which he died, he had requested his promoters to find him a choir made up of children who used sign language. While this would have raised awareness of sign language, a laudable endeavour in itself, it would have also made an incredible visual impact on stage.
Sign language choirs are not common and many people may never have even heard of them. However, most people, upon seeing one in action, will not disagree that the members are incredibly talented and can, in the words of X Factor judges, quote easily make 'a sing their own' by the way in which they stage it and the timing of the signs. Two different sign language choirs can take the same song and do two very different interpretations of it, just the same as if it was two different singers.
You might also like...
I have been looking for this information and could not find it. Now that I have found and read it am veryhappy and I will use it on my learners with autism who also are mute.
karuno
- 26-Sep-12 @ 7:36 PM