How to Convey Emotion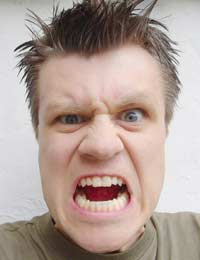 One of the hardest things for non speakers of British Sign Language to grasp is how to convey emotion when using the language. It is easy to see how individual words are represented as signs and it is also fairly straightforward in seeing how the language itself is constructed and set up. But one of the main ways people who use a spoken language convey emotion is through their voice. A simple statement can be meant in a multitude of ways and humans know instinctively usually, which one of these ways it is, largely through voice. Pitch, tone and enunciation all contribute to this and it is hard to see how sign language could replicate this. For example, if someone speaks the words 'it's a big challenge', without differing their tone or pitch, there is no way of knowing whether they are excited, nervous, scared, relishing the challenge or completely and utterly terrified of it. But with a difference in voice controls, this would soon become evident. Here are some of the ways that users of sign language combat this and how to convey emotion when using it anyway.
Body Language
Body language is key when using sign language - and not just so the signs can be seen clearly, although this is important. But thankfully body language usually comes pretty naturally and conveys emotions without us needing to think about it. The only difference with sign language is that if you really want to get across a particular emotion, you may need to exaggerate the body language, so even more slouched if you are reluctant about something or bouncing around if you are happy. Obviously, some forms of body language, such as crossing the arms can impede the understanding of the signs you are making so it is important to make sure you are clear when you have finished signing and are then just acting out the way you feel.
Facial Expressions
Facial expressions are vital to convey emotion. You only have to think of the way in which something said can be misconstrued more easily over the telephone than face to face to realise how important the face is. And when you are only relying on appearances and not the voice this becomes even more vital. And so it is for sign language. Facial expressions can be used to convey such a wide range of emotions from happiness to sadness, tiredness to excitability, anger to placidness, that sign language is virtually unusable without them. And facial expressions also have the advantage of not impeding any signs which you are making, as body language does.
Conveying emotion when using sign language does not have to be difficult. The lack of the voice obviously presents a small problem. But the more you use sign language and watch other people use it, the more used you will become to making sure you represent and convey emotions using the face and the body. At times these gestures will need to be more exaggerated than they would be if you were speaking out loud, but they should not become clown like. You will soon find out if you are doing enough to convey emotion when people start to respond to you. If they respond how you thought they would then you are conveying the emotions you planned to - if they do not, then you might need to make sure your emotions are coming across via body and facial expression.
You might also like...
My son is servly disabled and he keeps rubbing his legs with his hair of,??? We thought it was because he whanted to get a changed of clothes but that is not the case
sir
- 11-Sep-14 @ 9:12 AM