Sports and Hobbies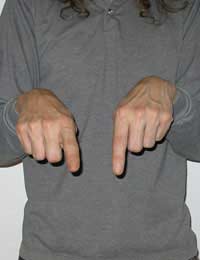 An extension of personal information, sports and hobbies are a great subject to chat to your new friends about. It allows you to find out whether each other is sporty, artistic or musical and how you each spend your free time. Chatting about sports and hobbies will also allow you to find topics which you both like, perhaps with a view to doing them together in the future. If there is no common ground then at least you can begin to debate the merits of your particular interest and talk about why you think your interests are deserving of your time. For the purposes of this article all of the signs described herein are in British Sign Language although it is worth the reader noting that they will vary considerably in different languages.
Sports
There are clearly many different sports and many variations on sports but here are some of the main ones as they are represented in sign language. To say the word sport itself you hold both hands outstretched with the palms pointed down and the index fingers touching. You then move the primary hand forward. Football is always a popular sport, in sign language it is said by holding both index fingers pointed down. One finger is then flicked out - as if the finger was a leg kicking a ball. Tennis is also a mime type of sign. You must mime serving, with a small swing though - otherwise you could risk knocking someone out! Again, swimming is a mime sign with the arms mimicking the breast stroke action by being pulled in towards the chest and then pushed out again in a roughly circular motion.
Volleyball is said by miming a dig - holding the hands together and arms outstretched and moving them upwards. Cricket is more complicated - it is said by jabbing one hand forward facing upwards with the other hand in a claw above it - slightly like the action of holding a cricket bat. Rugby is perhaps one of the easiest sings - the simple action of tossing a rugby ball back. Other sporty words you may need include win - a jubilant fist raised, a la Tim Henman, while lose is two hands faced down and then moved apart and downwards. Draw is both hands faced down, one behind the other and moving towards each other.
Hobbies and Interests
Much like sport, the options for interests and hobbies are almost limitless. What follows are some of the more common words you may come across or want to use when talking about them. If you want to talk about pets, the word for dog is made by pointing the index and middle finger of each hand downwards. Cat is said by holding a hand to your cheek and then moving it away fingers splayed, as if to show whiskers. Horse is represented by two fists moving in circular motions near the body - as if holding reins, while rabbit is represented by holding two fingers at each side of the head, like rabbit ears.
Budding thespians would say acting by making circles with the forefinger and thumb of each hand and moving them close to the chest. Theatre is said by holding the hand palm down and then touching the tip of the middle finger on the other hand to the back of the first hand. Cinema is similar but the second hand touches the facing down hand at the base and then moves in a wave. To say food, you mimic eating by holding the thumb and fingers together and bringing the hand towards the mouth. Nightclub is represented by holding the hand palm facing the face, thumb upright and then moving it so the thumb is horizontal.
Naturally, this is merely the tip of the iceberg as far as words for sport and hobbies are concerned. But it is easy to see a pattern with many of these words, particularly those which pertain to sport. Many of them mimic an action to do with that sport. Thus, if you do not know the word you want to use, it is possible to have a guess at it. You may not be right but at least you will have tried.
You might also like...