Interpreting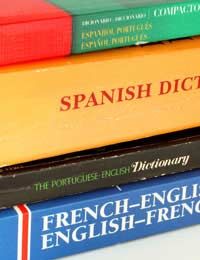 Just as with French, Spanish or any foreign language, there is always a need for interpreting services for British sign language - or for any language for that matter. Interpreting is vital - especially for deaf people. Unfortunately, there are all too many occurrences when deaf people who speak British sign language will come into contact with someone who has no sign language knowledge but still needs to be able to speak to them. In these cases, an interpreter will be needed. Interpreting comes into play in many arenas, but some of the most prominent include court and legal matters, job interviews, religious services and education. Interpreting clearly must work both ways, with the sign language user told what the other person is speaking and vice versa. One of the most common arenas when people will see a sign language interpreter is on TV. This is when the person appears in the corner of the TV and translates what is being said on screen for the deaf person to follow.
How to Find an Interpreter
In some situations, such as dealings with the police and courts, an interpreter is likely to be found for sign language users, just as it would be for foreign language speakers. But there may well be other times when you need to find your own interpreting service. It is useful to find someone with whom you feel comfortable as they are going to be sharing in your conversations. It is obviously better to hire someone who is properly trained and qualified to be sure that their interpreting skills are of a necessary level. Interpreters should always be recognised by the Council for the Advancement of Communication with Deaf People (CACDP). Their qualifications will usually be from higher or further education - either some sort of degree or an NVQ. The Association of Sign Language Interpreters will hold registers of interpreters and may be able to pout you in touch with one - but a better bet will be to try your local deaf charities as they may have lists of people looking for work in your area.
How to Become a Sign Language Interpreter
As stated above, most interpreters gain a qualification before they start work. There are several universities and colleges around the country where you can become proficient in learning how to sign and how to interpret. There are different levels of interpreter, with a junior being the most basic, then a trainee. Finally, you can become a member of the Member of the Register of Sign Language Interpreters which makes you a fully professional interpreter and able to accept a full range of positions.
Interpreting is a vital and rewarding career if you choose to make it such. In addition, with constant practise, your sign language will never stop improving and you will become more and more fluent, whereas if you do not use it for a while, you may start to forget certain things. And if you need interpreting services, make sure you choose someone who has been trained correctly - and for the level you need them for. If you need an interpreter for a job interview with no specialist language you may be fine with a junior interpreter but if you want one for court then you must choose someone with relevant experience of the jargon and terms which will be used there.
You might also like...
what are the advantages and disadvantages of makaton braille sign langue personal space and eye contact
imogen
- 2-Feb-16 @ 11:43 AM