Sign Language Among Scuba Divers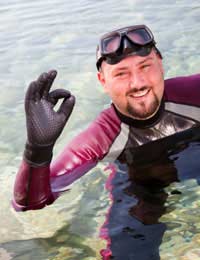 Although deaf people need to be able to communicate, and sign language gives them the perfect chance to do this, there are some groups for whom the need to communicate is literally a matter of life and death. One such group is scuba divers. Divers, whether they dive for pleasure or for work need to be able to alert others to any potential problems and issues they may face when under water. As speaking to each other is obviously not an option in this situation, sign language comes into its own as a method of communication which is, quite literally, a lifeline.
Beginners
Arguably, it is more important for beginners to learn sign language while scuba diving than anyone else. This is, of course, because they are more likely to find themselves in a situation which they are not used to, and therefore panic or get into trouble, However, there is an issue in this, in that to sign whilst underwater requires certain skills such as treading water and good buoyancy, which beginner divers may not have. Therefore, beginners are taught only those signs which they will absolutely need, such as how to recognise a question enquiring after their well-being and how to respond to that question, especially if there is a problem. This means that beginners will not be able to have any further conversation, but it is important for them to be able to concentrate on what they are doing in any case, and therefore, alerting someone to a problem is really the only skill they need.
Conversation
The more a diver dives, the more they will need to be able to communicate with others underwater. For example, if a diver is working for the police and searching a river for something, they need to be able to tell others if they know where they should be looking, or where not to look because of possible danger. Therefore, rather than a sign language used by deaf people, they have certain established phrases which are used to build up a conversation when strung together.
Limitations
While sign language underwater is by far the best method of communication, there are limitations as to its use. One such limitation is the fact that it can often be murky underwater. While divers for pleasure enjoy clear blue seas and coral reefs, divers who dive for work rarely have this luxury. Therefore, a diver must always have a thought for where the other divers are, and how far away they will be able to see his signs. Darkness is another such issue. Police divers may have to work after nightfall and the signs will not work unless the divers have a torch. In this case, the diver must always remember to shine the torch on the hands of the person doing the signing rather than the face where it might dazzle them.
Sign language among scuba divers is absolutely vital to them when it comes to either doing their job properly, or even just surviving underwater. It is yet another example of how a group of people manage to communicate with non verbal cues, and proves once more that speaking is not the only way to get a message across and understand somebody.
You might also like...