Use of Signs in Hearing Communities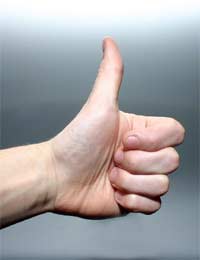 It is not only those who have lost their ability to hear that use signs and signed languages to communicate as many people who have perfect hearing frequently use non-verbal communication techniques both at home and during their working day.
In fact it is probably used more often than most people realise as they are unaware that they are using forms of sign language to communicate.
The Use Of Non-Verbal Communication
Even the simple gesture of nodding or shaking the head is a form of signing albeit very primitive. It is from very crude gestures such as this that more sophisticated signed language develops.
The use of facial expressions is also a very important form of signing and by using facial expression, many different moods and emphases can be used to highlight the most important parts of communication both verbal and non-verbal.
In many types of jobs either when the staff work in relative quietness of in very noisy environments when verbal communication wouldn't be very useful, facial expression and gesturing are often used without individuals being aware that they are using a form of sign language.
Hearing People Who Sign
Sign language is not just for those who have lost their hearing as many people who can hear well have learned the skills needed for signed language and are able to teach these skills to others. They are essential in helping people who want to learn signed language especially those who are losing their hearing or have lost their hearing.
These people can also act as 'interpreters' when needed in situations such as when a non-hearing person is a patient in hospital, when needed for interviews as well as many other situations.It is a very useful skills to learn even if you have good hearing already.
Sign Language & Education
Experts have now found that parents who encourage their children, even from a very early age, to use forms of signed language as a communication aid will significantly improve that child's ability to learn other skills at a later date.
Research has shown that children who were taught singed language or encouraged to use non-verbal communication in their early years have a better ability to learn new languages in later childhood.
This is very encouraging in our multi-cultural and international lifestyle as learning new languages will indefinitely give children a better foundation for success in adult life.
Forms of basic sign language can be taught to the very young even to babies and teaching these skills has allowed parents to their babies with less crying and whining than those who cannot express their wishes.
Very basic gestures indicating that the child would like a drink, a different toy, a bath or food not only helps to improve the relationship between parent and child but also allows the child to express their needs with less frustration.
It may be easily assumed that signed languages are just for those with no or little hearing ability but this is not true. Many people use forms of signed language to communicate and it is now recommended that parent encourage their children to learn basic signing even from being a baby to help them express their needs removing the development of frustration which leads to crying and annoyance from both the parents and the child.
You might also like...