Using Sign Language for Work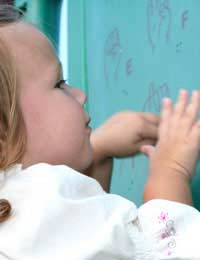 Schoolchildren are taught from an early age that learning a language at school may well stand them in good stead when they enter the world of work. They are not told quite so much about the benefits of learning sign language, a much more specialised skill which can be in far higher demand.
Whatever reason you choose for learning sign language, be it pleasure, work or family, once you have the skills, you can always put them into practice in the workplace where they may be in short supply. Like foreign spoken languages, using sign language for work falls into two broad camps – those for whom sign language is their job and essential and those for whom it is advantageous but makes up a small part of the job.
Interpreters
The most obvious job using sign language is that of interpreting. More than anyone, users of sign language who are deaf need interpreters to help them when they come up against official situations which do not involve sign language users. To become a sign language interpreter, most people would take a special course which is offered by some universities. And those who reach an acceptable standard of BSL to be used for interpreting then usually register with the National Registers of Communication Professionals with Deaf and Deafblind People.
There are many other checks and registers to sign before an interpreter is given free reign – although this is not surprising when you consider what kind of information they many end up being privy to. But ultimately, interpreting as a sign language user can be satisfying, rewarding, and with few dull or repetitive moments.
Communication Support Workers
Anyone who is interested in using sign language for their work but does not want to move into interpretation might consider becoming a communication support worker. Communication support workers work with deaf people and the wider community to make sure that they can communicate effectively in all areas of life. This can be through a variety of means but does usually incorporate a good deal of sign language.
A less formalised job featuring sign language could be anyone who works with deaf people, or, in particular children, but not strictly speaking as a communication support worker. This might include teachers who want to work in a school for deaf children or teaching assistants who know their role involves working with deaf students.
Other Types of Work
Although most jobs may never call for a need for sign language, there are some where it can be distinctly advantageous to have such skills. Any public facing role, where you might come into contact with people who speak sign language, could call for such skills. And while they would not usually be part of a job description, there is a good chance that if you were a good candidate in all other respects, having such a skill as sign language would be a boon. And if your role is in a help or advice service, then this becomes even more so – in the interests of accessibility, all of these services should give deaf people access to someone with at least a smattering of sign language, enough to get by with.
Like any skill, especially a niche one, sign language is always good to have on your CV. Yet most people do not think of it that way but think of it as something they can do to help others rather than advance their career. And by thinking of it in this way, the opportunities to use sign language at work become even more numerous, as helping people can creep up in the most surprising of circumstances.
You might also like...