Sign Language in the Workplace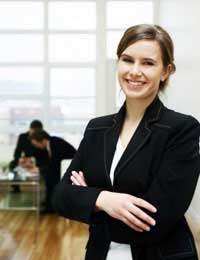 Thankfully employers are now taking equality issues more seriously and many now have equal opportunity policies and must demonstrate that those with recognised disabilities have the same opportunities for employment (where realistic) as those with no disclosed disabilities.
Many workplaces can now be proud of having a multicultural and diverse workplace with a wide range of the general public from many backgrounds and of many abilities and this includes those with hearing loss.
Employing People With Decreased Hearing Ability
If it has been found that the job advertised could be carried out equally by someone with full hearing ability or someone who is registered partially or totally deaf, there should be no reason why a deaf or hard of hearing person should not be considered for the job.
Where possible provide as much information in written format as possible and where necessary introduce an individual who is competent at signed language when interviews are scheduled who can act as interpreter. This will ensure that the person is given the same opportunities at interview as everyone else.
Obviously this arrangement might take additional time to arrange so provision should be made for this.Most jobs now require an equality and diversity information sheet to be completed by the applicant so this might be indicated then if the person has volunteered the information.
Inclusion To Staff Training
By employing those competent in signed language, a training opportunity for the other staff might arise. Employers could use this time to develop any members of their staff who are willing to learn the signed language and could even take a professional course. This not only reflects the ethics of the company, but also shows that it is taking an interest in its staffs training opportunities and shows high priority to workplace safety and staff needs.
There are many national programmes run by those who act as spokesperson for deaf people and organised such training that would be happy to help implement this training when requested aiming to raise awareness of the importance of effective communication in the workplace.
Unknown Signed Language in The Workplace
Many of us use forms of signed language at work without even realising it.Loud and busy environments would not be able to function effectively if we had to hear everything that was spoken by those around us. We use non-verbal communication all of the time, even at home without knowing it.
Although these are usually very crude forms of a signed language they still exist and could be developed further with a bit of time, motivation and learning from all involved.
Doctors and nurses in the operating theatre constantly use non-verbal communication as they usually wear masks and have to work in noisy environments to be able to communicate through speech alone and often will use facial expressions and indications when they need to talk to each other. This is not uncommon and something much of the human does everyday without being conscious of it.
Signed language or non-verbal communication techniques are something that we already do really well. If we took more time trying to harness these existing skills the workplace would be a much more pleasant and equal space in which those with hearing difficulties could thrive and be active members of the team.Those employers who have already taken steps to achieve this lead the example of equality and diversity in modern Britain.
SIGNED LANGUAGE IS FOR SALE.
This website is for sale [more info].
You might also like...